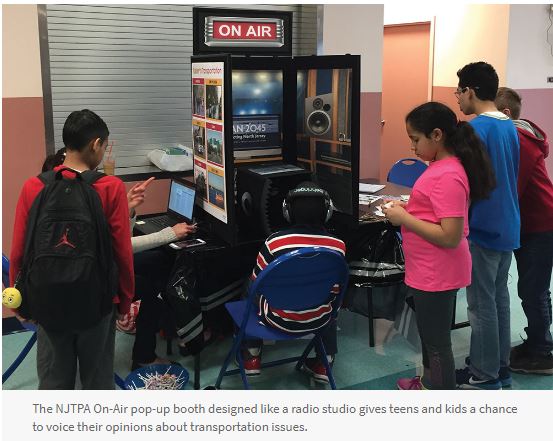 Innovations in Public Engagement is a public outreach program developed by the North Jersey Transportation Planning Authority (NJTPA) — which oversees planning for the 13-county region in northern and central New Jersey — and POET (Public Outreach and Engagement Team) at the Voorhees Transportation Center at Rutgers University. After two years researching outreach activities by planning organizations in the U.S. and worldwide, NJTPA and POET catalogued nearly 400 public engagement activities in a Tools and Approaches database.
NJTPA adapted some of the more innovative engagement practices for its outreach work for its regional transportation plan, specifically to reach millennials, low-income residents, teens, and individuals with limited English language skills — groups most affected by transportation issues.
For young adults and millennials, the "Set the Table" dinner party program features a "Meeting-in-a-Box" which includes a discussion card game with questions to guide conversations. "NJTPA On-Air" pop-up booths designed to look like a radio studio were set up at public events to encourage kids to record their thoughts about the future of transportation. Workshops held in ESL classes gave students practice communicating about issues affecting their community.
These non-traditional approaches, coupled with NJTPA's broader outreach (interactive workshops, online engagement, and pop-up booths at community events) conducted in each of its subregions, drew nearly 3,000 people to participate in outreach activities, exceeding the numbers from more traditional engagement efforts.
Congratulations to NJTPA and Miriam Salerno and Trish Sanchez from Rutgers POET for their Silver APA Planning Award!