The Alan M. Voorhees Transportation Center and
the Edward J. Bloustein School of Planning and Public Policy
present
The Alan M. Voorhees Distinguished Lecture
Wednesday, April 11, 2018, 5:00 p.m.
Special Events Forum, Civic Square Building
DANIEL SPERLING
Professor, Civil & Environmental Engineering
University of California, Davis

Three Revolutions:
Steering Automated, Shared and Electric Vehicles to a Better Future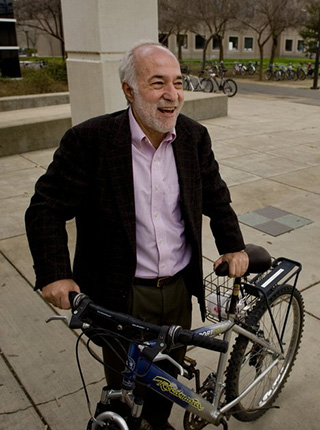 Dr. Daniel Sperling is a Distinguished Professor of Civil Engineering and Environmental Science and Policy, and founding Director of the Institute of Transportation Studies at the University of California, Davis (ITS-Davis). He holds the transportation seat on the California Air Resources Board and served as Chair of the Transportation Research Board of the National Academies in 2015-16. Among his many prizes is the 2013 Blue Planet Prize from the Asahi Glass Foundation for being "a pioneer in opening up new fields of study to create more efficient, low-carbon, and environmentally beneficial transportation systems." He served twice as lead author for the Intergovernmental Panel on Climate Change (sharing the 2007 Nobel Peace Prize), has testified seven times to the US Congress, and provided 40 keynote presentations in the past five years. He has authored or co-authored over 250 technical papers and 13 books, including, Three Revolutions: Steering Automated, Shared and Electric Vehicles to a Better Future (Island Press, 2018), been interviewed many times on NPR radio, including Science Friday, Talk of the Nation and Fresh Air, and in 2009 was featured on The Daily Show with Jon Stewart. Montgomery County, Maryland.
To view the flyer for this event, click here.
Please RSVP by Thursday, March 29 by visiting
https://bit.ly/vtc-sperling.
Reception 5-5:30pm, Lecture 5:30-6:30pm, Q&A 6:30-7pm
AICP Certification Maintenance credits are pending for this event.