NJ TRANSIT LAUNCHES PUBLIC-PRIVATE PARTNERSHIP TO OFFER FREE RIDES TO COVID-19 VACCINATION SITES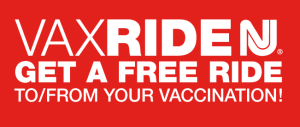 Or see this flyer to learn more about the program.
---
Travel instructors from NJTIP @ Rutgers wanted to help people in New Jersey connect with COVID-19 vaccine sites using public transportation. With funding from NJ TRANSIT, using the NJ COVID-19 vaccine site list available on January 27, 2021, the NJTIP team started researching and posting information on transit access to vaccine locations.
On March 10, 2021 NJ TRANSIT announced its VAXRIDE Initiative to support New Jerseyans in their efforts to get vaccinated against COVID-19. Below you will find a link to the VAXRIDE map which can be used to find vaccination sites that are conveniently served by NJ TRANSIT bus, train and light rail routes. NJ TRANSIT will be adding additional information and features to the VAXRIDE tool, and NJTIP @ Rutgers will continue to help, by researching transit access to vaccine sites not located on NJ TRANSIT routes or rail lines.

We encourage you to check NJ TRANSIT frequently for updates to the VAXRIDE map.
If you want help learning how to use transit, please contact us NJTIP @ Rutgers.  Our website is njtip.rutgers.edu.  We can also be reached by phone at (848) 932-4499 or via email at njtip_info@njtip.rutgers.edu.
Updated: May 5, 2021