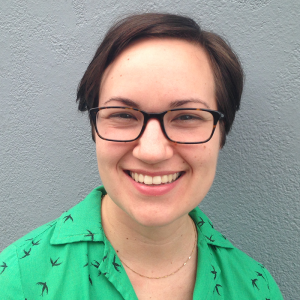 The WTS Helene M. Overly Memorial Scholarship was established in 1981 by WTS International to encourage women to pursue career paths in transportation. The scholarship is awarded to women pursuing graduate studies in transportation or a related field.
Ellen is a doctoral candidate at the Bloustein School of Planning and Public Policy at Rutgers University where she studies vegetation management practices within state highway agencies and other topics at the intersection of ecology and transportation.
Prior to starting a PhD, Ellen worked as a transportation planner for Nelson\Nygaard Consulting Associates and as an urban designer for Arterial Street Design Studio, partnering with planners, engineers, public agencies, elected officials, and community members to create better transit systems and more pedestrian-friendly, sustainable streets. Over 10 years of professional experience, her work ranged from analyzing human-services transportation funding to conducting bus rider surveys to drawing curb ramps in CAD. Ellen has a master's degree in urban planning and a master's degree in landscape architecture. Since 2016, she has been a member of the Transportation Research Board's Landscape and Environmental Design Committee.